The Gracechurch Centre Food Bank
Did you know?
The Gracechurch Centre has been working with Sutton Coldfield United Reformed Church and a local food bank run by 'Food 4 U' since May 2019.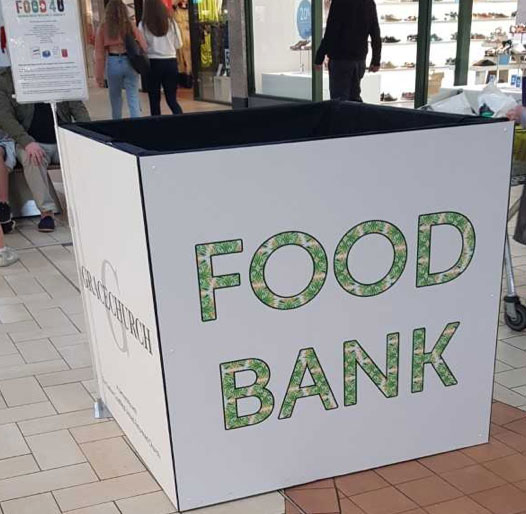 It was at a meeting with the church in 2019, that we discussed many of the issues facing the Sutton Coldfield community, with two of the main areas being homelessness and poverty.
One way in which the church helps to combat these issues is through the provision of a food bank, however there are challenges in the running of this, with food supplies often running low, so we decided to step in and help!
We installed our food bank in the centre on 13th May 2019 and since then we've received an abundance of food donations that have been gratefully accepted by the church and members of the Sutton Coldfield community. So thank you to everyone who has donated so far!
If you'd like to donate, you'll find our food bank within The Gracechurch Centre (just look for the big white box) and we welcome donations of non-perishable items including:
Marmalade/Jam
Tinned spaghetti/meatballs
Tinned fruit
Tinned curry/stew/chilli
Tinned sweetcorn
Custard
Flavoured rice
Instant noodles/pasta
UHT milk
Cereal bars
Biscuits
---
Local Volunteering Opportunities
Volunteer Opportunities at Sutton Coldfield United Reformed Church
If you are looking to meet new people, gain experience, or do something for the community why not volunteer at Sutton Coldfield United Reformed Church located right by the Gracechurch Centre. They are currently looking for volunteers to work in two of their community projects:
Cafe Oasis
A busy community cafe operating three days each week - Monday, Tuesday and Friday - preparing and serving healthy, good value meals under the guidance of an experienced professional chef. Volunteers are welcome to work in the kitchen or front of house.
Food4U foodbank
The foodbank opens twice each week - Tuesday and Friday lunchtimes - to provide food and support to those in our community who need some short-term additional help to better cope with the difficulties they are facing. They help single people, families, those in crisis, and those just struggling to get by. You can volunteer to help collect and pack food parcels or by making drinks and serving soup to our visitors. Normally, volunteers attend two or three sessions per month depending upon availability.
For more information about these volunteering opportunities please contact Alan Eaton, Church Secretary at Sutton Coldfield United Reformed Church - secretary@scurc.org.uk
Oxfam – The Parade, Sutton Coldfield
We are delighted to announce the re-opening of our Oxfam charity shops and we are looking for volunteers! Our diverse volunteers play an integral role in championing Oxfam's value, running the shops and promoting our life saving work to the wider community. The local Sutton Coldfield shop is looking forward to hearing from you so if you would like to get involved please contact: Kasi Allan kallan1@oxfam.org.uk for more information!