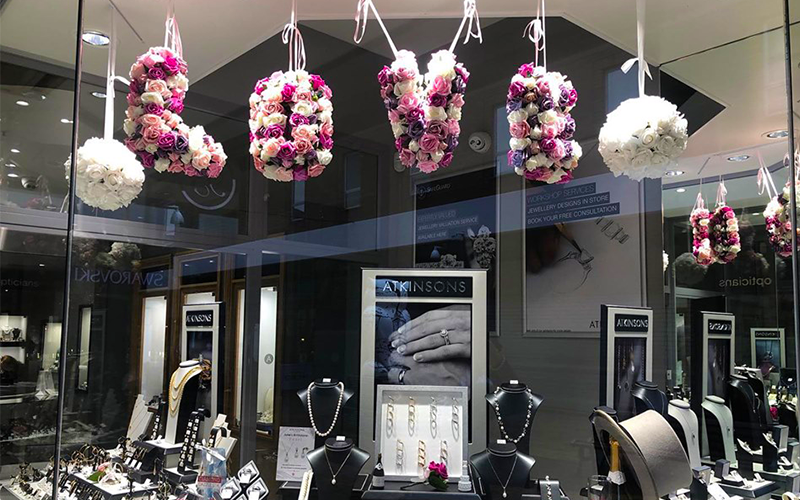 News Archive — Meet Keeley Atkinson from Atkinson's The Jewellers
We're celebrating Independent Retailer Month by celebrating our very own independent stores and taking the chance to introduce you to the people behind the store name. Today we're giving you a glimpse behind the scenes at our family-run Jewellery store – Atkinson's The Jewellers.
Tell us a little more about yourself and your role at Atkinson's The Jewellers? 
Paul and I opened our first jewellery store back in 1990 and from those humble beginnings on the Birmingham Road in Sutton Coldfield we have created Atkinsons in the Gracechurch Centre.
From investing, travelling and trading round the World we have developed a store we are now very proud of. To reach this point it has taken us 28 years!
What is your main aim as an independent business?
Our aim as an independent jeweller has always been to provide a first-class service. We appreciate and value our loyal and new customers and always aim to provide pre-loved and new products that the other multiples cannot provide. We like to invest in our customers offering them flexibility, expert knowledge and our time.
What challenges do you face while running your business?
As every independent retailer will tell you – it's not easy working for yourself and at times it can be very challenging. And of course, as we grow these challenges grow and vary. We have to staff, stock and secure a store that is open 7 days a week. We have had to invest a great deal in hi-tech security devices such as smoke cloaks, HD cameras, security staff and personal alarms. 
What do you hope the future holds for your business? 
In a new larger store, we have the opportunity to showcase many brands, pre-loved jewellery and onsite workshop and services, all of which sets us apart from the multiples. We also strive to keep ahead with technology in our workshop and services. In the future, we are planning to develop our Bridal Boutique, to expand our bespoke design services, to source new and exciting ranges and hold more special events for our customers and VIP Clients. We will continue to provide a large, unique range of exquisite, pre-loved jewellery – showcasing many different pieces. 
Tell us about some of the wonderful products and offers you currently have in store!
We are a brand ambassador for Clogau jewellery; the jewellery worn by Royalty such as William, Kate, Harry & Megan. This beautiful range of Welsh gold / silver jewellery is stunning. All products are packaged in luxurious boxes and bags, complete with cleaning cloths and free extended warranty. 
Our new ranges of jewellery include, fine 18ct white & yellow gold precious stone and diamond collections, elements gold, pearls, Fiorelli, Fred Bennett, Lido and a vast range of Atkinsons Silver & Gold.
We have many in store promotions, from a 10% discount in our workshop our rewards card to exclusive in-store events.