Blog — Sustainable Swaps
Join us for an exciting and impactful event dedicated to reducing plastic waste and increasing environmental awareness. As an attendee, you'll play a crucial role in making a positive difference for our planet. Here's everything you need to know:
Say 'No' to Plastic Bags! Event
Event Date: Saturday 22nd July 2023
Event Time: 11am to 4pm
At our event, we're taking a stand against plastic bags! Bring your kids and watch their creativity shine as they decorate their very own canvas bags. These bags can be used again and again, serving as a reminder to say 'no' to single-use plastics. We're proud to mention that these bags are made from recycled materials, showcasing our commitment to sustainability.
At The Gracechurch Centre, we believe that small changes in our shopping habits can have a significant positive impact on the environment. Join us as we guide you through an array of sustainable alternatives available, guaranteed to make your shopping experience both eco-friendly and enjoyable.
Now, let's delve into some fantastic sustainable shopping swaps available at The Gracechurch Centre:
Ditch the plastic throwaways for a reusable!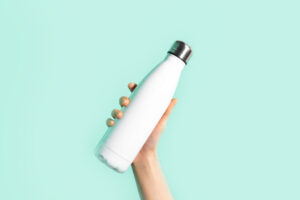 Say goodbye to single-use plastic bottles and opt for a reusable water bottle on your shopping trips. Discover an extensive range of stylish and eco-friendly options at Boots, Fat Face, Claire's Accessories, and Sports Direct. By refilling your bottle, you'll not only reduce plastic waste but also stay hydrated in style.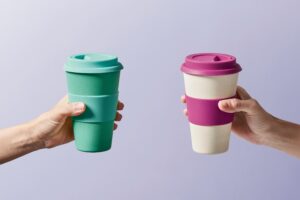 Enjoy your favourite hot beverage while out and about by bringing your own reusable coffee cup. Café Nero and Costa offer sustainable cups that allow you to sip your coffee guilt-free. Plus, don't forget that some coffee shops offer fantastic discounts when you bring your own cup!
If you find yourself in need of a straw, make a sustainable choice by selecting a reusable one made from metal, glass, or bamboo. Discover a range of eco-friendly straw options at Holland & Barrett, Lakeland, and WHSmith. Check out Holland & Barrett's Humble Bamboo Straws, Lakeland's Joie Rainbow-Coloured Stainless Steel Drinking Straws, or WHSmith's Hip with Purpose Reusable Straw with Case. By choosing reusable straws, you'll help reduce plastic pollution and enjoy your favourite beverages sustainably.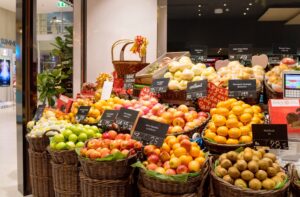 Let loose by choosing loose
When shopping for groceries, opt for products packaged in recyclable or compostable materials. M&S Food offers a range of sustainably packaged food options, while The Grape Tree provides refillable choices. These eco-friendly alternatives not only reduce packaging waste but also support a circular economy.
Only clean with clean materials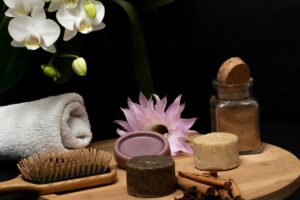 Make the switch to sustainable cleaning products that are free from harsh chemicals and packaged in environmentally friendly materials. Discover a wide range of sustainable cleaning alternatives at Lakeland. By choosing these products, you'll create a healthier home environment and minimise plastic waste.
Trade in your traditional shampoo and conditioner bottles for bars packaged in cardboard and reusable for up to six months. The Grape Tree and Boots offer a variety of options for sustainable bathroom essentials. These bars are not only great for your hair but also reduce plastic waste significantly.
Pick the reusable option and reduce the landfill
Make a sustainable choice by opting for menstrual cups, cloth pads, or period underwear. Boots provides various sustainable period product options that are both better for the environment and your well-being. By switching to these reusable alternatives, you'll significantly reduce the waste generated by disposable period products.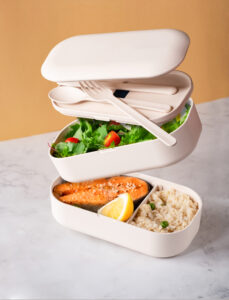 When packing your lunch, opt for reusable containers instead of disposable plastic bags or containers. Fat Face and Lakeland offer a variety of reusable lunch containers that are not only practical but also stylish. By making this simple swap, you'll reduce plastic waste while enjoying your meals on the go guilt-free.
Say goodbye to plastic wrap and embrace reusable alternatives like beeswax wraps or silicone bags. Lakeland offers a selection of these sustainable options that keep your food fresh while eliminating single-use plastic waste.
We hope these sustainable shopping swaps inspire you to make positive changes in your daily habits. Remember, even small steps can make a significant difference in creating a greener and more sustainable future. Visit The Gracechurch Centre today and join us in our commitment to a more eco-friendly lifestyle!
Get Creative!
Save the date! On Saturday, 22nd July, in honour of Plastic Free July, we're hosting a special event where you can unleash your creativity and design your very own reusable canvas bag—for free! This exciting event is your chance to personalise a tote bag while taking a sustainable step towards protecting our beautiful planet. Don't miss out on this fun opportunity!