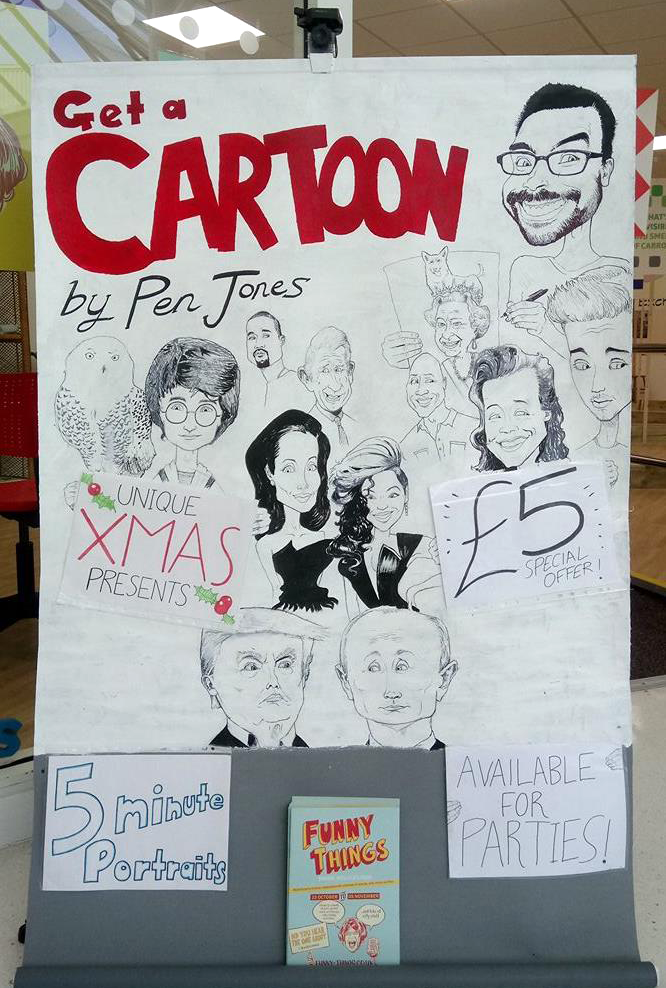 Get a Cartoon!
This Christmas, head down to The Gracechurch Centre and get a fantastic caricature to take home! Stop by and get a truly unique portrait illustration for just £5.
Our talented caricaturist can be found outside WHSmith between 11am – 5pm on the following dates:
7th December
8th December
14th December
15th December
21st December
22nd December
23rd December
24th December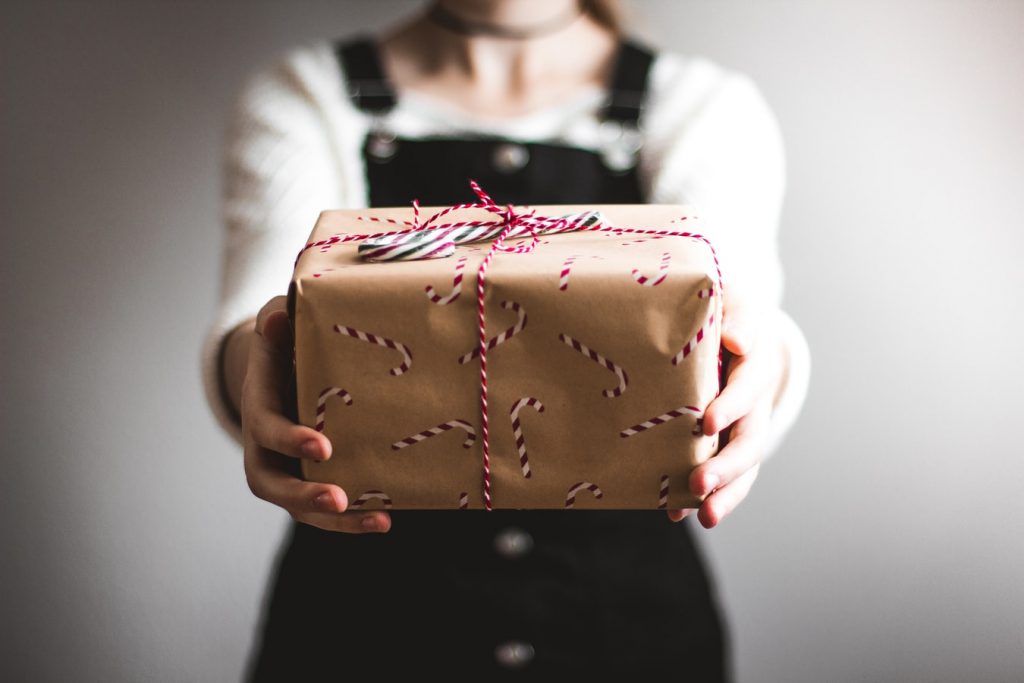 Charity Gift Wrapping Service
The Gracechurch Centre is working with the University of Birmingham to host a 'Christmas Gift Wrapping' service.
The service will be held close to our Christmas Grotto.
The students will be in the Centre on 2 dates – 4th & 11th December for 9am-5.30pm to gift wrap presents for a donation towards Meningitis Research Foundation. The events will raise funds for the charity and also raise awareness of the symptoms & treatment of the disease.
Customers will be able to choose from gift wrap / gift bags / gift tags and Christmas cards and the students will then wrap the gifts after a donation is made towards the charity.
The stall will also have available charity branded mince pies and gingerbread biscuits available for a donation.
The stand will also house information about the Meningitis Research Foundation.
The Giving Tree
25th November – Christmas Day
This Christmas, we're supporting the quest of students of Bishop Vesey's Grammar School to help disadvantaged members of the local community, by hosting their charity Giving Tree from 25th November until Christmas Day.
You'll find the Giving Tree located next to Santa's grotto, here at The Gracechurch Centre and if you'd like to help, simply take an envelope from the tree.
Inside the envelope will be details of someone in need and the items they'd benefit from. These will vary from items of clothing for a homeless man, to toys for a child, as well as everyday essentials such as nappies for a single mum of three.
Once you've purchased your gift, simply return it to the Giving Tree where a student, parent or representative will collect it on behalf of Bishop Vesey's Grammar School and deliver to the charities being supported or have them picked up for distribution to the individuals concerned.
If you'd rather make a financial contribution, these too can be made at the tree.
If you'd like to help out with the project by volunteering your time, please contact the Development Director at Bishop Vesey's Grammar School, Brian Davies: b.davies@bishopveseys.bham.sch.uk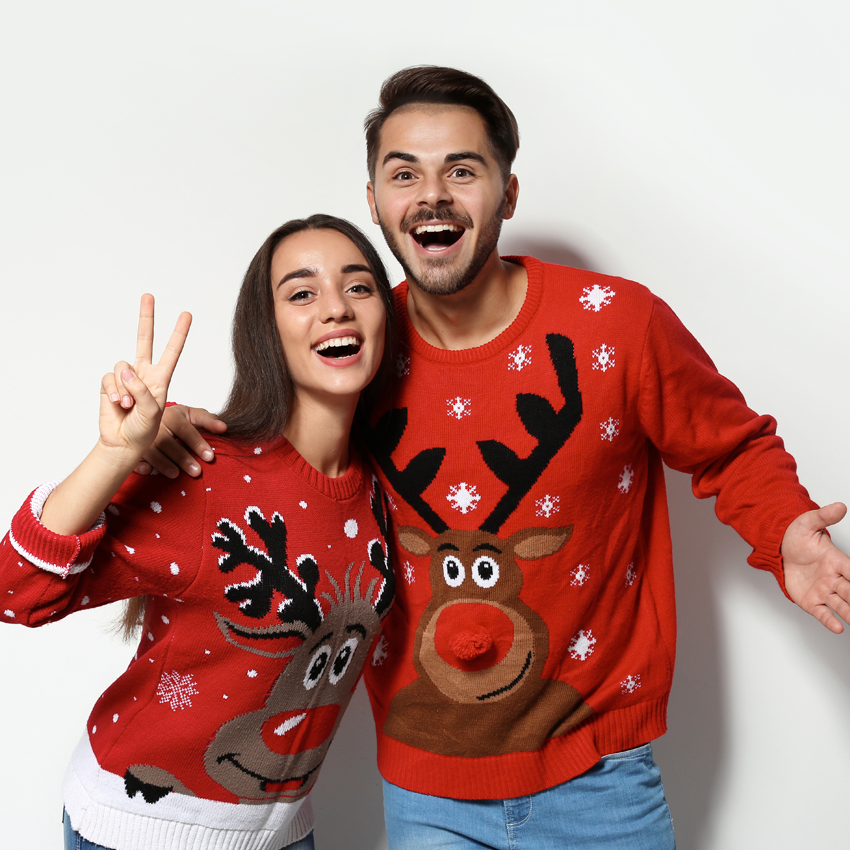 Join our Jolly Jumper Day
fundraiser!
Friday 13th December
On Friday 13th December, we'll be supporting Birmingham Children's Hospital Charity's 'Jolly Jumper Day' to raise funds for the hospital and sick children under their care.
The Gracechurch Centre's management, security and cleaning teams will be togged out in our jolliest jumpers for the occasion, with store teams joining the fun and raising funds for this extremely worthwhile cause.
So, if you're visiting Sutton Coldfield on Friday 13th December, why not pop into the centre and show your support by sporting your jolly jumper and giving as much as you can to our fundraising team?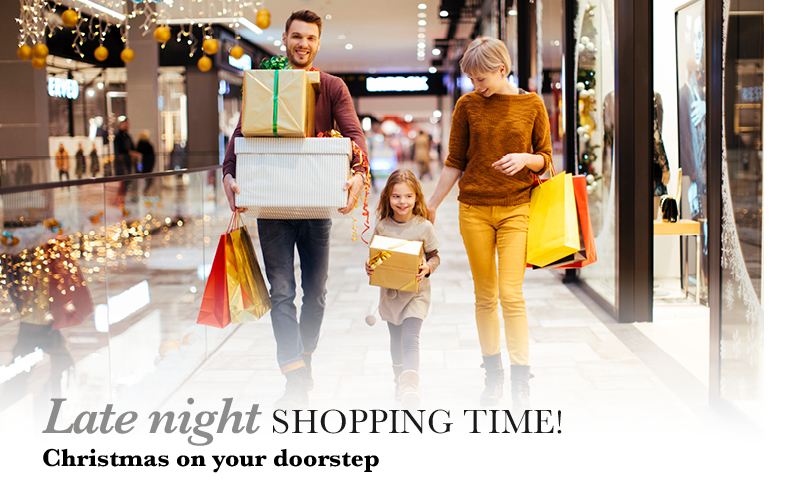 Late Night Shopping Time!
Christmas on your doorstep
Take the fuss out of festive shopping with a little extra time to shop.
Shop 'til 7pm , on Thursdays from 21st November until Christmas! And then…
Friday 29th November
Monday 16th December
Tuesday 17th December
Wednesday 18th December
Thursday 19th December
Friday 20th December
Monday 23rd December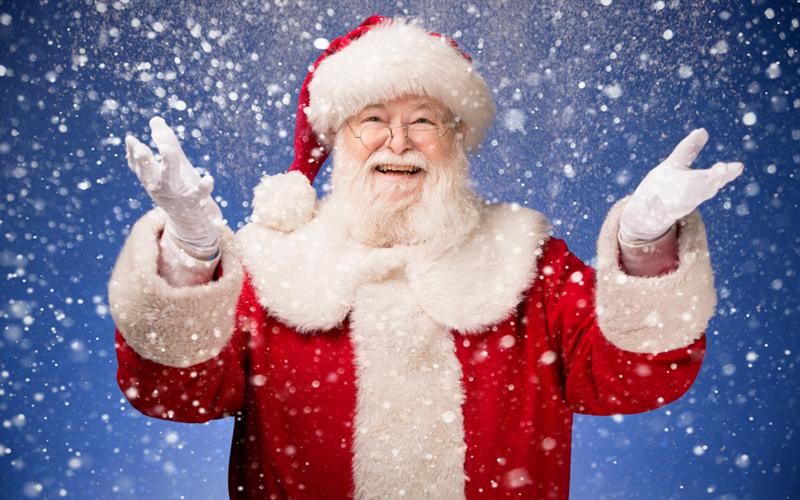 Meet Santa at The Gracechurch Centre!
From 23rd November to 24th December, bring the whole family along to see Santa in his grotto, situated in Bishop's Court near House of Fraser.
Book online here to beat the queue.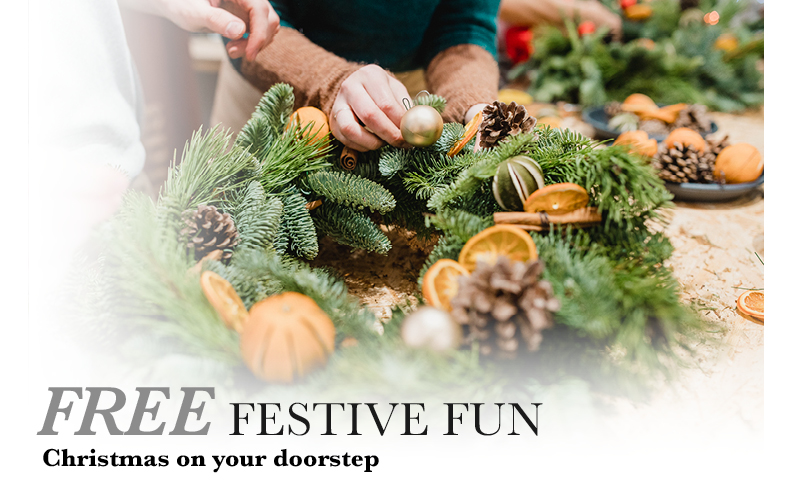 Free Festive Fun
Saturdays 30th November – 21st December
This Christmas, it's not all just about fun for the kids - we're getting everyone in the festive spirit, with FREE Christmassy crafts at our festive workshops in The Winter Garden.
11am, 12pm, 1pm & 2pm, Saturday 30th November
Create a Christmassy Orchid arrangement complete with decorative vase, festive foliage, orchid, ribbon, berries and glitter strands!
11am, 12pm, 1pm & 2pm, Saturday 14th December
Work your festive magic in our wreath workshop where you'll be provided with a variety of winter foliage and finishing touches to create your own personalised wreath.
11am, 12pm, 1pm & 2pm, Saturday 21st December
Craft a pair of joyful hanging jam jars filled with pebbles, Christmas moss, foliage and flowers and decorated with ribbons, glitter strands and coloured thread designs.
Spaces limited to 10 per workshop. Please arrive early to avoid disappointment.
PLUS! You can enjoy the chance to win a £100 Gracechurch gift card when you participate in two or more workshops between 30th November – 21st December 2019.
Simply pick up a loyalty card from The Winter Garden on your first visit and once you have collected two stamps, you're eligible to enter our free draw.
To enter please complete your details on the reverse of the card and post in the entry box at The Winter Garden from 14th – 21st December 2019.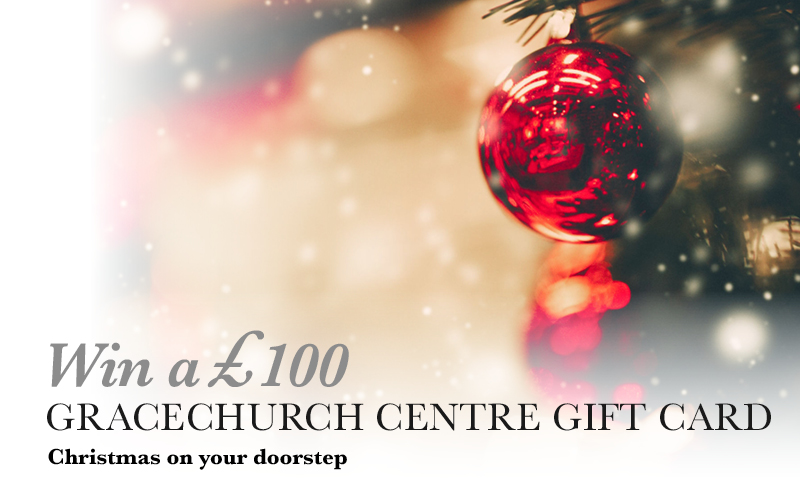 Win a £100 Gracechurch gift card
30th November – 21st December 2019
This Christmas we're giving you the chance to win a fabulous £100 Gracechurch gift card when you enjoy any two of our three Christmassy craft workshops.
To enter, simply pick up a loyalty card when you enjoy your first workshop and collect two stamps to qualify*.
*One stamp per workshop, per person.
Terms and conditions apply. See here for details.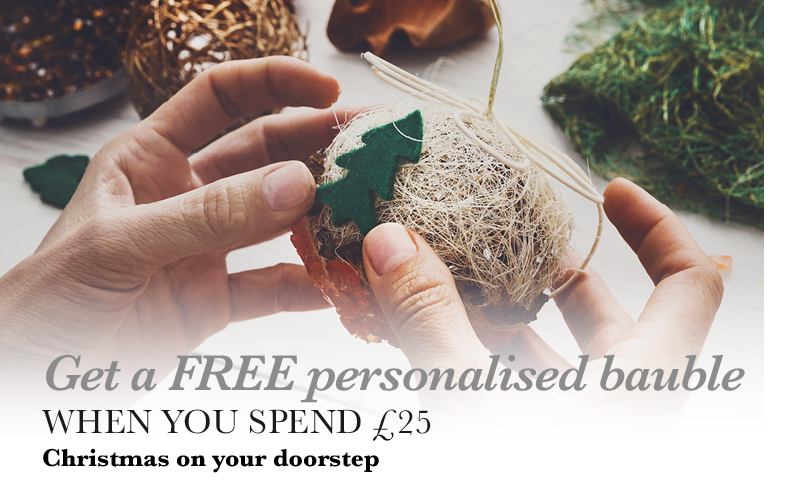 Get a free personalised bauble when you spend £25
Christmas on your doorstep
11am – 4pm, Saturday 7th December
On Saturday 7th December, we've got a little something to say 'Thank you' for shopping with us. So if you spend £25 or more in any store on the day, pay a visit to our Bauble Bling Station to bling up a bauble with your choice of ribbon and name.
Simply present your receipts for a total spend of £25 in centre on the day to claim your bauble!
Terms and conditions apply. See here for details.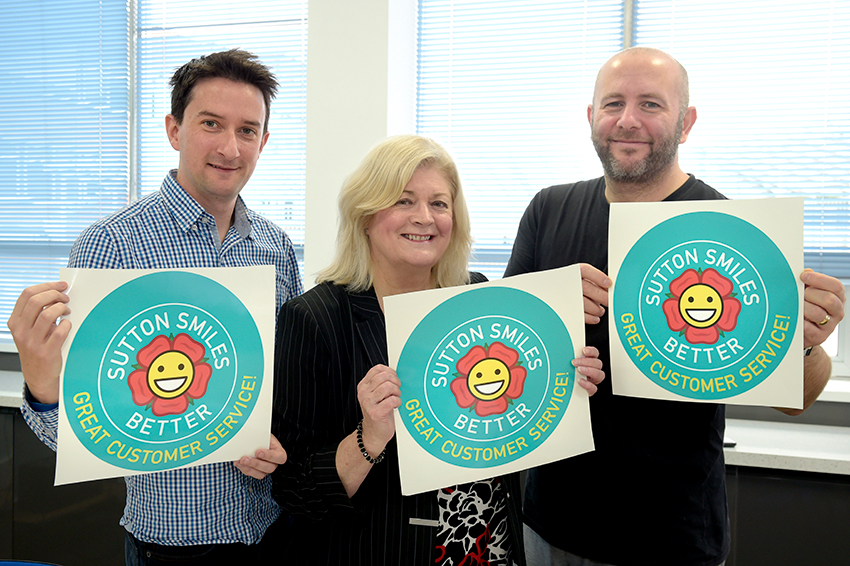 We're proud to be a part of Sutton Smiles Better!
Sutton Smiles Better aims to celebrate those who make Sutton Coldfield great. The new initiative will recognize a different member of staff in businesses throughout the Royal Town each month, rewarding the hardworking people who help make shopping and dining in Sutton Coldfield memorable! Winners will receive a Restaurant Quarter voucher redeemable in a host of restaurants and bars, as well as a trophy and badges to be displayed in their business. PLUS, every individual who puts a nomination forward will also be entered into a prize draw to be in with a chance of winning a £25 voucher to spend at The Gracechurch Centre!
Have you recognized an individual within The Gracechurch Centre, or the town centre, who's gone the extra mile to make your customer service experience exceptional? Nominations, along with a short explanation as to why the individual has been nominated, can be submitted via the Sutton Coldfield Town Centre BID Facebook page using #SuttonSmilesBetter.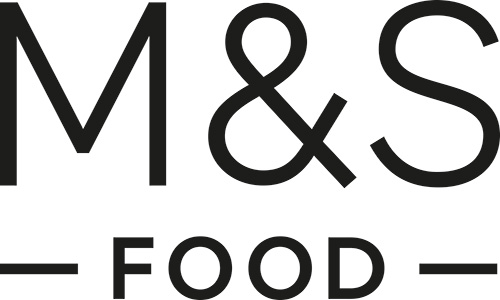 M&S returns to The Gracechurch Centre with a Simply Food concession in WHSmith
We're thrilled to announce that M&S is returning to the Centre on Tuesday 17th September with a Simply Food concession within WHSmith. The exciting new grab-and-go offering of M&S Food products for now and later includes M&S Simply Food meals and a selection of bakery items - perfect for our busy customers!
---